Posted by Trent in WA
[download]
- Play count: 371
Size: 6,654kb, uploaded 7/22/2008 6:31:01 PM
Genre: Unknown/None Chosen / Playing Style: Other
Traditional klezmer tune. Recorded on a Zoom H2, mixed in Logic, using my Ome Monarch with a new set of strings. (Recording with a new set of strings - not recommended!)
---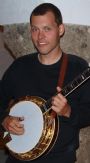 Violanjo Says:
Wednesday, July 23, 2008 @3:58:12 AM
Nice piece and playing. Did you write the arrangement?

dbrooks Says:
Thursday, July 24, 2008 @8:44:17 AM
Very nice. Your playing is very clean and expressive.
Trent in WA Says:
Thursday, July 24, 2008 @8:57:00 AM
Thanks! Violanjo, this is my own arrangement. It's based loosely on a piece in one of the Kammen collections, but I've played the tune for so long on so many different instruments that I couldn't remember how the original went.

Yopparai Says:
Saturday, July 26, 2008 @6:21:17 PM
I like it. It fits nicely with my current obsession.

jimh269b Says:
Monday, December 22, 2008 @2:04:49 PM
great job trent
You must sign into your myHangout account before you can post comments.