Posted by Patrick P.
[download]
- Play count: 465
Size: 2,437kb, uploaded 7/1/2008 10:21:57 AM
Genre: Unknown/None Chosen / Playing Style: Unknown/None Chosen
Adaptation of Charles Trenet's tune.
---
6 comments on "Somewhere beyond the sea"

NMD Says:
Wednesday, July 2, 2008 @8:41:50 PM
Sounded flawless, as usual Patrick.

saltcreek Says:
Thursday, July 3, 2008 @7:24:12 AM
That was beautiful, it took me back to a better time, thank you. Tony

Rick Woods Says:
Friday, July 18, 2008 @2:38:04 AM
How relaxing and beautiful. You sure picked a good one this time. Took me back a ways also. You always are such and inspiration. THANK YOU!

grandpa_dave Says:
Saturday, July 19, 2008 @12:18:53 PM
Very clean and soothing. A great song for banjo. Bobby Darin approves, I'm sure.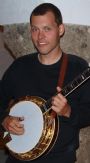 Violanjo Says:
Wednesday, July 23, 2008 @4:16:40 AM
Hey, I am impressed! That´s some very nice melodic stuff. It must be a hard work to create the back up stuff.

salvatone Says:
Monday, August 11, 2008 @9:33:18 AM
Very nice Patrick. Great passing tones in that tune, and you nailed them all.
You must sign into your myHangout account before you can post comments.