Written/Posted by gmr
[download]
- Play count: 257
Size: 5,628kb, uploaded 5/30/2008 8:58:29 PM
Genre: Unknown/None Chosen / Playing Style: Clawhammer and Old-Time
Original song. I'm playing both banjo and guitar. This is really two tunes connected in a melody. The tuning is DCADF. Hope you like.
---
cannibal4 Says:
Friday, May 30, 2008 @9:22:46 PM
Wow!!! Im a newbee learning to play Scruggs style. I've never really listened to Clawhammer or Old style. This is GREAT!
That is COOL!!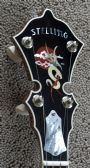 Patrick P. Says:
Saturday, May 31, 2008 @3:08:06 AM
Great, very nice playing and excellent recording. Please, post more !

Don Borchelt Says:
Sunday, June 1, 2008 @3:41:12 AM
Very pretty. Relaxed and loose. Very nice tune.
Greg Connor Says:
Wednesday, June 11, 2008 @10:20:16 AM
Beautiful piece of music. You are a good writer!

Dogfeathers Says:
Thursday, June 19, 2008 @11:34:50 AM
David,
Novice rated eh? Wish I could be such a novice!
Move over Bela.

Wonderful stuff, More more!
You must sign into your myHangout account before you can post comments.