Posted by RWJonesy
[download]
- Play count: 1024
Size: 2,484kb, uploaded 5/28/2008 5:45:55 PM
Genre: Unknown/None Chosen / Playing Style: Clawhammer and Old-Time
Learned from RD Lunceford. Reiter WL
---
6 comments on "WVA Girls (A-Modal)"

Don Borchelt Says:
Wednesday, May 28, 2008 @10:20:42 PM
Geez, you sound good. Another one I just learned myself, you really nailed this nicely. I got a new place to come looking for new tunes.

Loo P. Says:
Thursday, May 29, 2008 @4:55:53 AM
REAL NICE!!!! Sorry, didn't mean to shout.... but you sound great!!!!! Great playing Rob.

kcjc69 Says:
Saturday, May 31, 2008 @7:52:19 PM
Rob that was just beautifully played, nice job.

dbrooks Says:
Saturday, August 9, 2008 @8:27:40 AM
I like your version (or R.D.'s version) a lot. The banjo and your playing sound great. Very musical.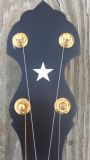 RWJonesy Says:
Thursday, August 21, 2008 @10:44:18 PM
Thanks everyone ! Glad somebody enjoyed it.

Ho C Ying Says:
Monday, October 24, 2011 @3:31:46 AM
Nice playing and excellent arrangement!


You must sign into your myHangout account before you can post comments.