Posted by brudford
[download]
- Play count: 1256
Size: 1,916kb, uploaded 4/29/2008 8:28:04 AM
Genre: Old Time / Playing Style: Clawhammer and Old-Time
From Dwight Diller's Homepage,played on my converted Goodtime II .
---
4 comments on "Frosty Morn / Clawhammer"

ELWOOD Says:
Tuesday, April 29, 2008 @9:59:09 AM
Bruce, I have played a very similar version of " Frosty" and I found some good differences that I am going to steal from your post. thanx I enjoyed this....................Elwood....5 stars.

chip arnold Says:
Tuesday, April 29, 2008 @10:11:01 AM
I like it. Hope you'll keep working on clawhammer, you're doing great. Give a listen to more than DD though. Clawhammer covers a lot of ground. Some is as unadorned and straightforward as Dwight's and some, like Ken Perlman's, is extremely melodic. My 2-finger version is on my Hangout homepage.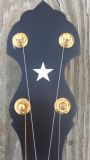 RWJonesy Says:
Wednesday, April 30, 2008 @9:45:56 PM
Bruce.......nice job ! I am a huge fan of Dwight Diller because of his emphasis on timing and rhythm. I have a version on my hangout homepage as well. Most of the tunes I have learned are from Dwight. Keep that steady rhythm going and then once you have the melody add some of your own creations as well. Lots of good people on this site who will help you along....like Chip !

Don Borchelt Says:
Monday, September 1, 2008 @6:53:10 PM
Very nice, graceful and clean. Well done.
You must sign into your myHangout account before you can post comments.