Posted by TopCat
- Play count: 201
Size: 2,500kb, uploaded 4/23/2008 11:53:35 AM
Genre: Bluegrass / Playing Style: Bluegrass (Scruggs)
Can you even recognise this one, played so slowly!! Nevertheless, here's my attempt at BBB, 12 weeks after starting to learn the banjo. I have given up trying to achieve a recording with no mistakes at all, so this one will have to do.
---
12 comments on "Blackberry Blossom"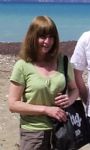 u k sandra Says:
Wednesday, April 23, 2008 @12:35:51 PM
Maria, I couldn`t hear any mistakes at all. Its lovely.

Badger Says:
Wednesday, April 23, 2008 @4:13:43 PM
Very nice. And you say you don't have to look at the tab. I wish my memory worked that well. Keep on, you are well on your way.

Joanchek Says:
Wednesday, April 23, 2008 @4:54:36 PM
Great job! Don't worry about speed yet, it'll come on its own. (I didn't believe it either, but it did!) Shoot for even timing and clear notes and the rest will happen. You're well on your way, and your banjo sounds lovely!

hammeron Says:
Wednesday, April 23, 2008 @6:26:59 PM
What mistakes? All I hear are some very nice notes being played in musical fashion creating a feeling of peace. Looking forward to more of your tunes for sure.

fatbanjo Says:
Thursday, April 24, 2008 @1:37:45 AM
Stop messing about missus....thats all there, the way to look at it is record yourself 12 months down the line and see the difference, I teach bluegrass banjo and I would be really impressed with that after 12 weeks...keep em coming girl...fatbanjo

TopCat Says:
Thursday, April 24, 2008 @4:28:31 AM
Ah, thanks so much for all your kind and encouraging comments. What a lovely lot you are.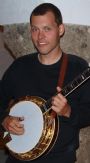 Violanjo Says:
Friday, July 25, 2008 @3:36:13 PM
12 weeks playing? That is awesome!

Wishuey Says:
Sunday, November 30, 2008 @5:20:04 PM
Brilliant! I can play it a bit faster but my version is mostly...well, wrong. You`ve got the notes down perfectly and the speed will come with practice. I only wish there had been more banjo players about back when the "banjo virus" infected me. I might not have ended up playing all backwards. It`s been fun anyway. Keep up the good work! Cheers, Pete Huey

dgill Says:
Tuesday, January 5, 2010 @4:41:17 PM
You play quite well. Pic on.

Grumps Says:
Wednesday, January 6, 2010 @3:48:58 AM
Hey up Maria, 'Only just heard it, it's one of my favourites, played so well too, 'must have played it hundreds of times myself & still go wrong, 'bet you'll have it perfect by now

TopCat Says:
Thursday, January 7, 2010 @1:13:00 PM
Oh my goodness, this was done a LONG time ago, I have definitely got a bit better since!
You must sign into your myHangout account before you can post comments.