Posted by NMD
[download]
- Play count: 193
Size: 2,100kb, uploaded 3/28/2008 2:40:53 PM
Genre: Unknown/None Chosen / Playing Style: Other
I've been wanting to try this for awhile. It's tough for me to keep the timing consistent, but here's my attempt . . . so far, anyway.
---

thilo-w Says:
Friday, March 28, 2008 @2:50:58 PM
Sounds great!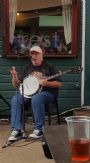 joemac Says:
Monday, March 31, 2008 @12:30:50 AM
Wow, thats well played Nestor, can you tell me a bit about this tune as i've never come across it............well played again.

NMD Says:
Monday, March 31, 2008 @9:14:43 AM
It's from Eric Clapton's "Unplugged" album. Thanks for the kind words at my humble attempt. If you want to hear a really fine adaptation of this song to banjo (and some excellent fiddle playing too) check out Craig Korth's homepage here at BHO.
You must sign into your myHangout account before you can post comments.