Posted by jrd210
[download]
- Play count: 916
Size: 531kb, uploaded 3/19/2008 9:53:17 AM
Genre: Unknown/None Chosen / Playing Style: Bluegrass (Scruggs)
Been playing since January, recorded 3-18-09
---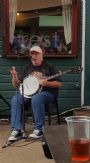 joemac Says:
Wednesday, March 26, 2008 @5:10:37 PM
well young man that is super for three months!!! keep going, your rolling in the right direction...joe

dpete210 Says:
Tuesday, July 8, 2008 @1:54:41 PM
Keep at er, Jeremy! Not bad for just starting out. Sounds like you are concentrating on that right hand and that is good. It just keeps getting smoother and smoother as you play more and more. Good job and Good luck!

jrd210 Says:
Tuesday, July 8, 2008 @2:19:20 PM
Thank dpete,
I need to upload a new recording of Cripple Creek....its much better now. I've been working on 9 pound hammer recently...really liking that song.
Jeremy

RODMISER Says:
Saturday, December 20, 2008 @7:41:44 PM
YOUR GOOD
You must sign into your myHangout account before you can post comments.