Posted by tubaphone1927
[download]
- Play count: 2887
Size: 3,171kb, uploaded 3/17/2008 12:11:42 AM
Genre: Old Time / Playing Style: Clawhammer and Old-Time
This is probably my favorite version of this song.
---
12 comments on "Cumberland Gap"
Ottawa Says:
Monday, March 17, 2008 @12:22:02 PM
Nice, I like the arrangement. You've go the style down well.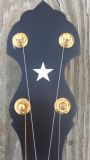 RWJonesy Says:
Wednesday, May 14, 2008 @5:07:13 PM
Man, that is one fine job on this tune ! Thanks for posting !!!

speedtheplow Says:
Monday, June 9, 2008 @3:36:13 PM
Of all the versions of this tune I've heard, this is my favorite.

unclesheepy Says:
Wednesday, July 16, 2008 @6:05:06 AM
Exellent version indeed. Really stands out.

edavidt Says:
Sunday, July 27, 2008 @5:07:39 PM
Elegant and smooth. Very nice. Dave T.

Jeff Osborne Says:
Thursday, August 21, 2008 @7:23:29 PM
Very nice, I love your version of this tune. You want to share the tuning?

Don Borchelt Says:
Sunday, September 28, 2008 @5:09:19 PM
This is just shuffles along the way it was always supposed to. I agree, just about the nicest version I ever heard.

Tom Berghan Says:
Thursday, October 1, 2009 @11:34:46 PM
It don't get no better!

GarryB Says:
Monday, June 14, 2010 @8:43:48 PM
Very Good!!

Hankspoppy Says:
Tuesday, July 19, 2011 @1:19:31 PM
Great song. Great playing, dude. Jeff----If I'm not mistaken he's in open G tuned down a whole step to open F.

tubaphone1927 Says:
Tuesday, July 19, 2011 @1:31:55 PM
Thanks guys for the nice comments...I need to re-record this soon. Anyway the tuning is fDGCD.

Ho C Ying Says:
Tuesday, November 8, 2011 @2:07:48 AM
Oh, this is just great!


You must sign into your myHangout account before you can post comments.