Written/Posted by eagleisland
[download]
- Play count: 792
Size: 3,171kb, uploaded 3/16/2008 4:00:16 PM
Genre: Unknown/None Chosen / Playing Style: Bluegrass (Scruggs)
(c) 2005, 2007 by Skip King. It's kind of fun to compare this version, recorded recently with my band Cumberland Crossing, with the earlier version I recorded with Lemieux. On the earlier version, it was just us two and I was playing the song as fast as I could, cleanly. The middle section of the earlier recording was Lemieux jamming and me filling; it's fun but I wanted something more structured that could show off the abilities of our guitar and dobro players, with a slightly more interesting chord progression. Hence, the new "C" part. Obviously, the speed has picked up and the drive I always suspected was possible with it comes through. Not a flawless performance by any of us; lousy recording that has a hard time picking up the guitar and mando and some ham-handed cross-fades in this one because I blew some licks and had to grab samples from elsewhere in the take. But you'll get a sense of how it sounds when the band plays it. Audiences seems to dig it, too.
---
4 comments on "Eagle Island (Cumberland Crossing version)"

stanger Says:
Monday, March 17, 2008 @6:11:05 PM
Great tune, Skip! You have some sophisticated ideas going on here, and you pull them off very well!
Greg Connor Says:
Monday, March 24, 2008 @2:37:53 PM
What an interesting piece of music. I agree with Mike, you really put it together well.

Bongshang Says:
Thursday, July 16, 2009 @12:39:46 PM
That's an excellent piece of music Skip. Well played,
JJ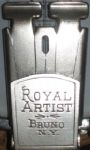 RB-1 Says:
Thursday, October 28, 2010 @4:41:24 PM
Agree with all above. Keep 'm coming!
You must sign into your myHangout account before you can post comments.