Posted by Greg Connor
[download]
- Play count: 126
Size: 6,529kb, uploaded 3/15/2008 11:11:48 PM
Genre: Unknown/None Chosen / Playing Style: Other
Written by Greg Connor - Martin J-40, Deering Golden Era, Fender Strat, Vocals
---
5 comments on "Victim of Love"

ELWOOD Says:
Monday, March 17, 2008 @12:31:50 PM
Greg, I liked the lyrics on this one good word pictures, nice every man appeal your multi trak ending wandered abit but you already had me with the lyrics , So when do sleep?

ELWOOD Says:
Wednesday, March 19, 2008 @1:56:48 AM
I hear you on perfection , yes just another excuse for hiding out, no excuses , here ,uploads OK once I get the routine.

dpete210 Says:
Saturday, May 31, 2008 @7:11:39 PM
hi Greg! Neat song! Your recording sounds good also. Keep it up! Dave Peterson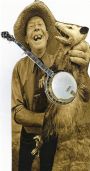 My Golden Says:
Thursday, March 12, 2009 @7:11:49 PM
Greg, loved the lyrics and that good ol' Martin sound! Where do you get the inspiration for writing? This tune we all can identify with. I liked it because of being in medicine for years, and seeing an ambulance alot!

ELWOOD Says:
Saturday, April 11, 2009 @8:29:36 AM
This is my favorite so far, This is the song that inspired me to join BHO .. I would add I think this is a great song. Did I mention that this is American honest home grown music. Just really grabs me. Thanks Greg , Great work......Steve
You must sign into your myHangout account before you can post comments.