Posted by royce
[download]
- Play count: 1672
Size: 572kb, uploaded 3/9/2008 1:33:40 PM
Genre: Unknown/None Chosen / Playing Style: Unknown/None Chosen
I wanted to record this banjo before I sold it. It sold to Cody Hill who lives in Indiana. It's an old Frankenstein banjo that has the old sound. I put the recording together in about 10 or 15 minutes so it's a little sloppy but still got it going pretty fast.
---
8 comments on "Cumberland Gap"

mainejohn Says:
Sunday, March 9, 2008 @8:08:06 PM
Jeez...I think I will sell all my banjos! Unbelievable!

Rick Woods Says:
Monday, March 10, 2008 @6:48:10 AM
You tore that one up! Fine, mighty fine!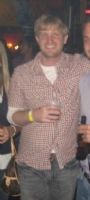 jaybird34 Says:
Monday, March 10, 2008 @9:12:42 AM
Great googly moogly. Very nice. Teriffic sounding banjo too!

banjocody Says:
Monday, March 24, 2008 @3:25:35 PM
hearin this, i think i made a good purchase. hopefully i can make it sound like that one day

CBG Says:
Monday, May 5, 2008 @4:12:09 PM
Royce, Thats some really good pickin....very good

Don Borchelt Says:
Wednesday, March 25, 2009 @6:45:30 PM
Sounds great to me, definitely the good old sound on that one!
Laurence Diehl Says:
Wednesday, August 8, 2012 @4:05:00 PM
There's no doubt, when it comes to this style you've got "it" - killer!

rickhayes Says:
Friday, August 10, 2012 @9:36:11 AM
I should be so sloppy!
You must sign into your myHangout account before you can post comments.