Posted by Renofan
[download]
- Play count: 364
Size: 830kb, uploaded 2/12/2008 3:20:27 PM
Genre: Unknown/None Chosen / Playing Style: Other
My Don Reno/Eddie Adcock-inspired version of this tune. Reno's basic rolls and up-the-neck break, Eddie's chordal positions and Travis-picking, then back to Reno's "continuous roll", and my original Double-Timed measure...with brief flourishes of single string....I'm playing all the instruments.
---
4 comments on "James Stiltner - Weeping Willow Tree"

FiddlerFaddler Says:
Wednesday, February 13, 2008 @12:00:08 PM
I love the way you varied the accompaniment, rolls, etc. each time you went through it. A thoughtful arrangement, impeccably executed. Kudos, accolades and attaboys! Thanks for posting this.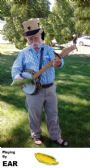 mike gregory Says:
Wednesday, February 13, 2008 @11:31:02 PM
I suppose I should get a picture of me in my avatar outfit, WITHOUT the hat, so that when I say "My ha't off to yez!", the hat is really off! That is some very impressive picking. A veritable casserole of styles, and tastefully done.

alanjg1 Says:
Sunday, February 17, 2008 @6:30:08 PM
Superb !!!

Renofan Says:
Tuesday, February 19, 2008 @2:55:37 PM
Thanks alot for all the comments!
You must sign into your myHangout account before you can post comments.