Posted by Celeste
[download]
- Play count: 1354
Size: 2,468kb, uploaded 1/21/2008 10:02:05 PM
Genre: Unknown/None Chosen / Playing Style: Clawhammer and Old-Time
This is a traditional whaling song. I tuned the banjo g-flat/BG-flatAB.
---
7 comments on "Wings of a Goney"

wrightedward Says:
Monday, January 21, 2008 @10:32:43 PM
Different,yes ,nice sounding banjo ,BUT a beautiful voice ,give us some else

Yopparai Says:
Monday, January 21, 2008 @11:19:14 PM
Yep. I really like the duet of your voice and your banjo.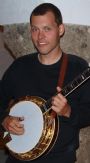 Violanjo Says:
Saturday, February 9, 2008 @12:39:54 PM
Nice singing! This tune sounds mournful and your banjo makes a great accompaniment.

Don Borchelt Says:
Sunday, March 2, 2008 @8:06:41 AM
Very nicely done. Some folks might think New England whaling songs and banjo are strange bedfellows, but lots of banjos went to sea in the last century. If they still aren't convinced, they should give this wonderful rendition a listen. Perfect interplay between voice and instrument.

Debbielee Says:
Saturday, January 31, 2009 @11:23:52 AM
Celeste, Happy New Year (a little late) This song is really beautiful! You did a very nice job. I wish you lived closer.. Joe and I are getting together with some old clifftop friends this afternoon. Ann Whitley for sure and we hope to see Albert and Billy too. Thanks for posting your song!

stumpkicker Says:
Wednesday, September 23, 2009 @7:23:20 AM
Very nicely done, I believe I've heard that tune used as background music in The Civil War, I was a pleasure to both learn it's title and here it done on the 5.
Thanks
You must sign into your myHangout account before you can post comments.