Posted by Violanjo
[download]
- Play count: 3209
Size: 5,097kb, uploaded 1/14/2008 8:01:08 PM
Genre: Bluegrass / Playing Style: Bluegrass (Scruggs)
My version of Clinch Mountain Backstep features a fiddle and a double banjo lead at the end. Unfortunately the sound quality is not the best on this one. Picked on my japanese FAKE GIBSON.
---
8 comments on "Clinch Mountain Backstep (Fiddle and Banjo)"

jroberson1991 Says:
Tuesday, January 15, 2008 @9:03:05 PM
Amazing!

Where can i find the up the neck break tab for this?

Dr.Ken Says:
Wednesday, January 16, 2008 @2:49:48 AM
Great job!

Rick Woods Says:
Wednesday, January 16, 2008 @10:07:57 AM
Nice playing. Very inspiring.

Mr Raymond Sutton Says:
Wednesday, January 16, 2008 @2:49:42 PM
Very good and what a wonderful arrangment. Well done. Ray.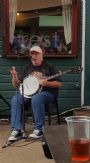 joemac Says:
Friday, June 6, 2008 @5:52:26 AM
superb Manuel....keep posting.....joe

Retropicker Says:
Thursday, January 22, 2009 @4:30:56 AM
That's real cool!

Tuneager Says:
Monday, January 18, 2010 @2:29:15 AM
When this tune first started I thought you were getting ready to go into Tequila. I like this version for so many reasons, if Ralph Stanley could have only known. Rhythmically it's infinitely fascinating, there's a violin shuffling solo about midway that's very cool, and a harmony banjo part that becomes part harmony, part dissonance. Your imagination seems to have no limits. Very inspiring!!!

Banjo Bob Anderson Says:
Thursday, April 8, 2010 @9:08:01 PM
You may be a genius!! Do you know Bertrand in France?? If not, find him FAST!!! I'll get you his email.
I was in Salzburg many years ago--gorgeous.
Banjo Bob Anderson
Plymouth, MI, USA
You must sign into your myHangout account before you can post comments.