Posted by Violanjo
[download]
- Play count: 613
Size: 4,478kb, uploaded 12/13/2007 6:31:46 PM
Genre: Jazz / Playing Style: Bluegrass (Scruggs)
This was recorded on the 20.07.2002 in Luetzensommern near Weimar. I d like to thank David Gatzsche for his classical guitar playing and his recording work. We performed this piece during Davids Chamber Music exam at the Franz Liszt Hochschule in Weimar. Imagine, a poor banjoplayer surrounded by professors of classical guitar who have never seen a banjo in reality in their lives before! I will never forget those faces!! Picked on my japanese FAKE GIBSON.
---
6 comments on "Embraceable You (Banjo and Guitar)"

Rick Woods Says:
Friday, December 14, 2007 @8:45:00 AM
Nice and relaxing. Thanks for sharing.

jormac Says:
Wednesday, May 28, 2008 @5:26:41 PM
Manuel...you never cease to amaze me! Beautiful rendition of that tune...also some great guitar work from David.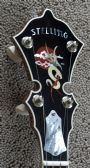 Patrick P. Says:
Thursday, May 29, 2008 @2:46:03 AM
Very, very nice.
I love it !!!

Tuneager Says:
Thursday, December 24, 2009 @7:30:40 PM
And who would have ever thought banjo could be relaxing. Beautiful, tranquil, definitely set a mood I haven't really heard before. Great job and great playing!

Tuneager Says:
Monday, January 18, 2010 @2:43:27 AM
I didn't review this one with enough fervor before. This is one of the most beautiful pieces I've ever heard.

Shilohbanjoman Says:
Tuesday, December 4, 2012 @3:46:33 AM
Yes! Beyond expectations once again! I couldn't have asked for more: classical guitar and the banjo. Manuel, you are instrumental (no pun intended) in erasing the bad image the banjo has received. It is my hope that you will be remembered in the future for your unique contribution and development of the instrument. Who would have thought that the Bachs and Beethovens of today would be a very select group of banjo players such as Bela Fleck and yourself.
You must sign into your myHangout account before you can post comments.