Posted by Violanjo
[download]
- Play count: 593
Size: 2,211kb, uploaded 12/1/2007 7:43:46 PM
Genre: Other / Playing Style: Bluegrass (Scruggs)
This my slipjig. This tune also appears in the 3rd movement of my 2nd concerto for banjo and chamber orchestra. It has more harmony changes than a traditional slipjig from Ireland. Picked on my japanese FAKE GIBSON.
---
8 comments on "Violanjos Slipjig"

Bullard Says:
Tuesday, December 11, 2007 @8:38:26 PM
very nice! --John B

tyler324 Says:
Thursday, January 10, 2008 @8:10:58 PM
Awesome tune!!!!

RODMISER Says:
Saturday, March 15, 2008 @2:23:31 PM
don't stop

budbennett Says:
Thursday, April 24, 2008 @9:18:09 AM
fantastic!

John M. Says:
Tuesday, May 27, 2008 @11:56:35 AM
Very intricate use of this type of piece--nice variation. Overcomes standard expectations.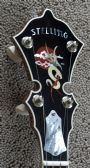 Patrick P. Says:
Friday, January 23, 2009 @6:18:41 AM
Very nice composition well played !

Calbri Says:
Monday, September 14, 2009 @4:00:49 AM
Great piece .. any chance of a tab for it? sounds awesome to play as all your tunes do!
Laurence Diehl Says:
Monday, November 2, 2009 @8:17:18 AM
Real nice - enjoyed the free-flowing melody and the changing tonal centers (bit fast for a jig, but still 9/8)? And that "fake Gibson" has got a very pleasing tone to it. Very original sounding!! Great job, Manuel.
You must sign into your myHangout account before you can post comments.