Posted by mike gregory
[download]
- Play count: 684
Size: 1,203kb, uploaded 11/20/2007 7:38:21 PM
Genre: Unknown/None Chosen / Playing Style: Clawhammer and Old-Time
An old Quaker hymn. Played on the HANSEN2 banjo. Made from a salad bowl, some maple from a discarded futon, with bicycle spokes for the tension hooks.
---
Greg Connor Says:
Tuesday, June 24, 2008 @11:59:48 AM
Reminds me of Aaron Copland. I would like to see the Hansen2 banjo sometime. It sounds pretty good, especially after reading the description above.

Johnboy109 Says:
Monday, December 22, 2008 @6:01:38 AM
Interesting sound you get on that banjo.
Janna Says:
Thursday, April 22, 2010 @4:54:03 PM
nice sound of banjo!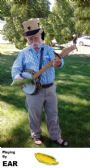 mike gregory Says:
Thursday, April 22, 2010 @5:34:36 PM
And here's the salad bowl banjo, as it was being cobbled together.
http://www.banjohangout.org/myhangout/photos.asp?id=8805&albumid=1117
You must sign into your myHangout account before you can post comments.