Posted by LyleK
[download]
- Play count: 1834
Size: 2,359kb, uploaded 10/29/2007 9:06:23 PM
Genre: Unknown/None Chosen / Playing Style: Clawhammer and Old-Time
Another
---
4 comments on "Corkonian Reel"

John D Says:
Monday, October 29, 2007 @9:48:00 PM
Great tune! Well played. John D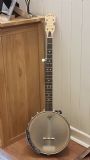 TomJoad Says:
Tuesday, October 30, 2007 @11:23:03 AM
I liked this a lot. Thanks for uploading.

banjoralph Says:
Thursday, September 24, 2009 @8:41:54 AM
I liked your playing a lot-at least what I could hear of it-Perhaps you could record at a higher level in the future.

cmic Says:
Thursday, April 29, 2010 @7:44:10 AM
Hi
Whoa. I'm impressed and in love with this tune. Really.
Any tab of this version of Corkonian reel ? I would like [to try] to play it
TYA.

--
Michel marcon (aka cmic)
You must sign into your myHangout account before you can post comments.