Posted by Yopparai
[download]
- Play count: 187
Size: 2,570kb, uploaded 9/23/2007 1:16:56 AM
Genre: Unknown/None Chosen / Playing Style: Other
Our own Mike Gregory penned this tune, and I don't think I noticed a single pun anywhere. I thought maybe he would write the lyrics without using the letter L... then it could have been a No L Song. Think about it... Yule thank me later.
---
3 comments on "Christmas: Mike Gregory's Run, Mary, Run"

NMD Says:
Monday, September 24, 2007 @11:27:39 PM
Hey Yopparai and Mike,
I enjoyed listening to that. Any more in the works?
Nestor

Yopparai Says:
Tuesday, September 25, 2007 @12:03:41 AM
Mike posted the song in the sound off forum and invited, nay, encouraged people to take a crack at it. You know, I am thinking a snappy three-fingered version would be mighty nice. *hint* *hint*

I tried picking it yesterday, but I couldn't get my fingers around it. So its up to one of you pickers to take the torch.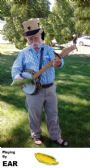 mike gregory Says:
Wednesday, January 21, 2015 @11:36:09 AM
I gave it yet another listen.
I like the sort of Hassidic bounce you put into it.
After all, she WAS 100% Jewish!
If it sounded any MORE Jewish, I would have to re-title it
"RUN, Murray, RUN!!"
You must sign into your myHangout account before you can post comments.