Posted by TONUP
[download]
- Play count: 1581
Size: 2,054kb, uploaded 9/11/2007 7:15:10 AM
Genre: Unknown/None Chosen / Playing Style: Bluegrass (Scruggs)
My attempt at an arrangement by Martin Blake
---
10 comments on "Angeline The Baker"

thilo-w Says:
Tuesday, September 11, 2007 @7:41:13 AM
Well done, great Sound!
I like it.

Patrick Randall Says:
Tuesday, September 11, 2007 @11:46:52 AM
Good job, rolls along nicely :-)
What you doing the bass with?

Jammer Says:
Tuesday, September 11, 2007 @7:03:28 PM
Loved it. Great picking, and clean mix!

pickabanjo Says:
Tuesday, September 11, 2007 @11:27:31 PM
Good banjo mechanics...Solid rythnm in the right hand rolls...Nice picking

Banjopickinmike Says:
Wednesday, September 19, 2007 @8:26:34 PM
Great stuff. I am having trouble finding the tab you mention for this, I don't see it on the Martin Blake website. I'd really like to learn this one. Any help is appreciated. Thanks. Mike.

Carlaway Says:
Thursday, October 4, 2007 @2:05:49 AM
Beautiful playing, great song, and a really nice sounding banjo. What banjo did you use?

Don Borchelt Says:
Friday, October 12, 2007 @7:57:47 PM
Nice job, good crisp picking.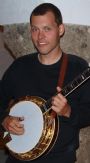 Violanjo Says:
Wednesday, April 23, 2008 @3:51:15 PM
Hey, you have got a great sound. I like the precise picking.

MiG-19 Says:
Friday, June 12, 2009 @4:30:21 PM
I love it in this tempo! One of the better versions I've heard, thanks for sharing.

Ricky-T-jo Says:
Tuesday, December 29, 2009 @10:35:25 AM
Great arrangement, I wondered if there was a way with the extra notes in the melody. I like your method. Thanks!
You must sign into your myHangout account before you can post comments.