Posted by jbalch
[download]
- Play count: 3910
Size: 1,033kb, uploaded 11/5/2006 8:20:18 AM
Genre: Unknown/None Chosen / Playing Style: Clawhammer and Old-Time
1915 Vega tubaphone 11 13/16 rim (neck by Dan Knowles).
---
6 comments on "xx The Soldiers Joy series - Vega Tubaphone"

Don Borchelt Says:
Monday, February 26, 2007 @10:50:03 PM
Love them big tubaphones. You keep finding new notes stashed in your Soldier's Joy pockets. Great picking, as usual.

strumn1 Says:
Tuesday, January 20, 2009 @6:40:25 AM
I love being able to hear this same song played on so many different banjos. Wanting to purchase my first banjo allows me to hear what the different ones sound like. I wish others would do this. Very fine playing by the way. Thanks

Tom Berghan Says:
Monday, September 21, 2009 @10:46:50 PM
This one is my favorite of the series. Both the sound of the 1915 Vega tubaphone (sounds fantastic) and you played your "Soldiers Joy" with just a little more fire on this take. This must have been just after breakfast with a LOT of Tabasco sauce on your eggs that morning. You are RED HOT on his one John!

"Waiter . . . I'll have what he's having please." ;-)
Eleven Stars

ramjo Says:
Friday, March 5, 2010 @3:46:52 PM
I have never seen, nor probably will ever compose, a better comment than tomberhagan's on this one. What a joy it is to listen to your music.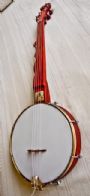 sport Says:
Wednesday, March 23, 2011 @12:22:24 AM
This is my favorite version ever of sj!
Thanks for the post!
Frailblazer Says:
Friday, July 27, 2012 @1:21:24 PM
Smokin! Wow!
You must sign into your myHangout account before you can post comments.