Posted by Jim Pankey
[download]
- Play count: 2210
Size: 2,851kb, uploaded 11/3/2006 5:40:02 PM
Genre: Bluegrass / Playing Style: Bluegrass (Scruggs)
Recorded Live at the John C. Campbell Folk School
---
8 comments on "Oh My Little Darlin'"

frailin Says:
Monday, November 20, 2006 @8:51:27 PM
A favorite of mine.
Very well done!

frailin Says:
Tuesday, December 5, 2006 @6:42:34 PM
Dang!
SWEET!!
shaffere Says:
Tuesday, December 12, 2006 @10:37:57 AM
Had to listen to it several times...I think I'll go back and play it again too!
FretlessFury Says:
Tuesday, January 30, 2007 @10:29:35 PM
Fantastic playing all around. Great picking, Jim! And that vocalist is somethin else!

Unplugged Says:
Sunday, February 25, 2007 @11:04:15 AM
Love your picking and that of your buds, Jim. Thanks.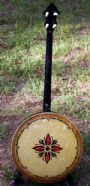 banjoplyr. Says:
Sunday, March 23, 2008 @9:31:25 PM
Great tune jim,love that Guitar,oh,and banjo,great singing.

docham Says:
Friday, August 5, 2011 @9:41:57 AM
Awesome! Who are those guys?
Jim Pankey Says:
Friday, August 5, 2011 @9:54:51 AM
Doc... that's me(banjo), Bobby Burns (mandolin), Roy Curry(guitar), Bethany Dick (fiddle) and Diana Phillips(bass). :)

You must sign into your myHangout account before you can post comments.