Posted by RB-1, written by Steve Gilette
- Play count: 123
Size: 4,823kb, uploaded 3/31/2015 1:14:03 PM
Genre: Folk / Playing Style: Other
Reckless Fingers ( SCR- 23, The Netherlands, 1990) Arr. Reckless Fingers The mandolin I played belonged to Joe Val. Crazy luck I was allowed to use it on this track.
---

alanjg1 Says:
Tuesday, March 31, 2015 @1:42:39 PM
Lovely Bruno.
Nice clean recording. A great memory!
I'm guessing Paul Silvus was the banjo player on tour with Joe back then?
Alan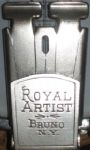 RB-1 Says:
Tuesday, March 31, 2015 @2:02:13 PM
No, the situation was different.
After Joe died, the mandolin went to another New England player.
He happened to be on tour in the Netherlands at that time and stayed with Pieter ( the SCR guy).
When Pieter asked if he could come along to the recording session, I jokingly said 'only if he brings the Loar' To my utter amazement he handed me the case as he walked through the door and said something like 'here you are, play it'
Which I did, after my hands had stopped shaking....
If you wonder why Elly sounds the way she does, this was before that nasty auto immune disease damaged her throat. It's a small miracle she regained so much of her abilities.

alanjg1 Says:
Tuesday, March 31, 2015 @3:05:58 PM
Nice story Bruno. Great to have had the chance to play that instrument!
Elly still sounds wonderful these days!

I saw Joe Val quite a few times over here in the old days.
His high tenor wasn't to everyone's taste but I always enjoyed their shows.
His regular banjo player, Paul Silvus was always willing to spend time and show us any licks etc we asked about.
Once at Edale, he spent a while with a few of us and showed us how to play Scruggs version of
'Why Don't You Tell Me So' in F.
The good old days!!


You must sign into your myHangout account before you can post comments.