Posted by Chris Quinn
[download]
- Play count: 1240
Size: 6,448kb, uploaded 5/25/2007 11:58:06 PM
Genre: Unknown/None Chosen / Playing Style: Bluegrass (Scruggs)
composed by Chris Quinn. performed by The Foggy Hogtown Boys. (Chris Quinn - bluegrass banjo, Chris Coole - clawhammer)
---
7 comments on "Kayla's Dream - by Chris Quinn"

NMD Says:
Saturday, May 26, 2007 @8:22:58 AM
Very pretty tune. I enjoyed listening.

lazyarcher Says:
Wednesday, June 20, 2007 @9:12:18 PM
That my friend is just one of the prettiest songs I've heard in a long while.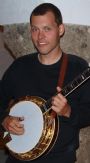 Violanjo Says:
Sunday, December 23, 2007 @4:33:33 PM
Your music is deep and strong. Just as I like it! Beautiful composition! Would you share the tab?

AcousticEclecticJamBand Says:
Monday, February 18, 2008 @11:15:26 PM
great !
new grassy !
gonna play it on my radio show
matt
love the style changes !

John Kuhn Says:
Tuesday, February 17, 2009 @10:18:13 AM
Yeah man absolutely beautiful!. LOTS of emotion here.Its makin me SAD , but it a good (weird) way..LOL.Has a great flow to it.EXCELLENT!!!John

thombanjo Says:
Monday, November 22, 2010 @4:06:32 PM
Absolutely inspiring. I just love the melody, breaks and the transitions. I agree with John, it has the smoothest flow and takes the listener on a nice journey. Thank you so much for posting.

thombanjo Says:
Friday, March 18, 2011 @11:11:39 AM
I tried to play this again today and there was no sound ? Anyway...still love this tune so much.
You must sign into your myHangout account before you can post comments.