Posted by Patrick P.
[download]
- Play count: 612
Size: 1,917kb, uploaded 2/5/2015 3:05:22 AM
Genre: Classical / Playing Style: Unknown/None Chosen
3rd part of this sonata. I'm always working on the 1st ...
---
5 comments on "Mozart rondo from kv 545 sonata"

neillconnor Says:
Sunday, February 8, 2015 @5:15:11 AM
Quite outstanding. What style of banjo do you play this in?
I learnt mozarts sonata in A K331 on piano many years ago and always wondered if it would be possible to play the 3rd movement, the Rondo alla turca on banjo??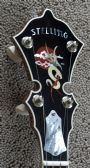 Patrick P. Says:
Wednesday, February 11, 2015 @7:52:41 AM
Thanks Neill
I play in 3 fingers style using picks, if you want more details, i can send to you the tab.


neillconnor Says:
Friday, February 13, 2015 @12:34:15 AM
Thanks for tab. I'll have a go at it over coming months. Being a clawhammer player, it may take some time!!

JanetB Says:
Thursday, December 17, 2015 @1:34:08 PM
As I listen to this again, I get a Christmassy feeling!
You must sign into your myHangout account before you can post comments.