Posted by MarkJohnson
[download]
- Play count: 2672
Size: 6,887kb, uploaded 5/24/2007 9:51:21 PM
Genre: Unknown/None Chosen / Playing Style: Other
Playing and recording both styles together
---
14 comments on "Soldiers Joy "

Don Borchelt Says:
Saturday, May 26, 2007 @1:04:20 PM
Really nice. Such nice three finger picking, too.

tallface65 Says:
Sunday, May 27, 2007 @12:33:57 PM
wow, all of you were great! Love that flatpicker!
jeff

carteru93 Says:
Sunday, May 27, 2007 @5:23:52 PM
Wow that's great!

mainejohn Says:
Wednesday, May 30, 2007 @8:22:24 PM
Great version of one of the all time great banjo tunes!

jonny250 Says:
Sunday, June 10, 2007 @3:36:21 AM
Really excellent, very enjoyable listening.
Jonny

Cathy Moore Says:
Tuesday, June 12, 2007 @5:05:18 PM
It sounds like you were having a blast!

salvatone Says:
Thursday, June 21, 2007 @2:49:38 PM
Holy Cow!

rtyrie Says:
Sunday, July 8, 2007 @7:56:39 PM
Great rendition of this tune - as always, this has your personal touch we've come to enjoy.

RODMISER Says:
Friday, February 8, 2008 @9:55:14 PM
D good
Tom Hanway Says:
Monday, September 22, 2008 @11:12:00 AM
Yes, this is Mark Johnson banjo in full swing - what a tasty rendition of this old classic, one of the best tunes of all time. It cut out on me, so I get to re-load it again. Whoopee!!!

RatLer Says:
Wednesday, December 10, 2008 @4:25:17 AM
My kind of clawhammer(grass)....Very nice...

jimh269b Says:
Friday, April 24, 2009 @4:12:17 PM
hey mark great job

DoubleG Says:
Wednesday, June 29, 2011 @9:47:56 PM
I really enjoyed that! One of my favorites.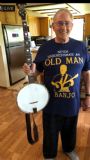 hudie Says:
Tuesday, July 23, 2013 @1:47:34 PM
Got to pick this one with Mark at a jam in Winlock, Wa. Needless to say Mark's version blew us all away.
You must sign into your myHangout account before you can post comments.