Posted by JanetB
[download]
- Play count: 956
Size: 966kb, uploaded 7/19/2014 3:18:33 PM
Genre: Old Time / Playing Style: Clawhammer and Old-Time
For the old-time Tune of the Week, 7/18/14, this arrangement is from Kentucky fiddlers Jim Bowles and Isham Monday's similar versions. I find it's a melody expressing hope and celebration. I'm in double C tuning, capoed 2, playing my Whyte Laydie openback made by Mac Traynham.
---

rickhayes Says:
Saturday, July 19, 2014 @5:16:36 PM
Fine job Janet

JanetB Says:
Sunday, July 20, 2014 @8:15:39 PM
Thanks, Rick. I'm always trying to decipher what those old fiddlers were doing and hope some of it rubs off.

jimifive Says:
Tuesday, July 22, 2014 @12:24:32 PM
that is a cool version Janet -
i like the way you use the "blue" note
btw - i was in Nevada city last week and thought of going to Smartsville, but i was told 'there's nothing there'
anyway, some fun pickin happened at the Yuba river...

guitarman8491 Says:
Tuesday, July 22, 2014 @4:49:15 PM
Janet the way you play this tune is wonderful..very very nice!

JanetB Says:
Monday, August 4, 2014 @9:55:14 AM
Thanks, Jimi and Doug. Jimi, do you ever busk in Nevada City? That would be an enormous treat for them. I play in Rough and Ready every Sunday at 10:00, but it's not a jam--it's a Sing Along with a leader--a wonderful old dobro player (sorry, Ev, you're in your 80's right?) that's been my mentor for over a decade. Banjos get the first break on most songs!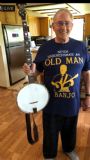 hudie Says:
Tuesday, November 18, 2014 @1:19:13 PM
Hi Janet,

Nice version. I learned a slightly different version ofthat tune from an old LP of the Dillards with Byron Berline on fiddle. Notes on the LP jacket say that the tune is very similar to Billy in th Lowground usually played in C. Berline does it in D.

JanetB Says:
Tuesday, November 18, 2014 @5:17:08 PM
Hi Ron, I don't have the Dillards version you mention, though I've listened to Byron Berline before. In the one I learned I don't hear Billy in the Lowground. Thanks for your comment.
You must sign into your myHangout account before you can post comments.