Posted by tonwil
[download]
- Play count: 1615
Size: 2,580kb, uploaded 4/18/2014 1:29:08 PM
Genre: Bluegrass / Playing Style: Bluegrass (Scruggs)
Gordon lightfoot
---
3 comments on "ten degrees and colder"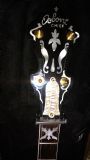 tonwil Says:
Friday, April 18, 2014 @1:31:43 PM
playin around with my recorder again. the harmony was hard on this one for me, excuse a little falsetto.

VancePants Says:
Saturday, April 19, 2014 @4:20:18 PM
Sounded mighty fine t' me... great job!

Flatiron53 Says:
Wednesday, October 1, 2014 @9:38:19 PM
I agree with Kenelk. Mighty fine picking and singing. My friend, you possess some awesome talents.
You must sign into your myHangout account before you can post comments.