Posted by pig-pickin
[download]
- Play count: 900
Size: 851kb, uploaded 2/12/2014 7:08:40 PM
Genre: Unknown/None Chosen / Playing Style: Bluegrass (Scruggs)
Hi everyone! Well I'm about 2 1/2 weeks into the journey to try to learn how to play the banjo and I'm eager for some feedback. I've been using the Murphy Method DVD Vol 1 and this is pretty much the only song I've been trying to learn so far. Anyway, I'd love to hear what everyone thinks. Thanks!
---

RB4picker Says:
Saturday, February 15, 2014 @7:19:10 AM
Hello Mark and welcome to the hangout. Your Cripple Creek is great. Smooth, clear notes and for just two weeks, WOW! Keep at it, slow and steady and you'll be throin' down in no time.

Your banjo sounds great also. Should doyou for a long time.

David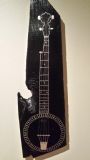 pig-pickin Says:
Saturday, February 15, 2014 @2:39:55 PM
Thanks David! My banjo is a Recording King RK-36 and I'm very happy with it. Glad to know it sounds good to other ears too.
You must sign into your myHangout account before you can post comments.