Posted by Jon Eric
[download]
- Play count: 2829
Size: 10,555kb, uploaded 5/7/2007 9:22:37 AM
Genre: Unknown/None Chosen / Playing Style: Bluegrass (Scruggs)
Just another version. Is the title cut for the 07 release of The Mayflies
---
9 comments on "Jerusalem Ridge"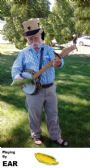 mike gregory Says:
Tuesday, May 22, 2007 @12:11:15 AM
My hat's off to you, and it's one heck of a fine hat!

salvatone Says:
Tuesday, May 22, 2007 @12:47:32 PM
Nice job.

Mr Raymond Sutton Says:
Thursday, June 28, 2007 @8:49:32 AM
Well I have heard some fine pickers in my time some better than others, you young man rate as one of the best. You timing is perfect and the way you compliyment others during there breaks is a joy to behold. You are my number one player and I look forward to your posts. Thanks a lot and good luck. Regards Ray.
Richie Dotson Says:
Thursday, January 1, 2009 @1:30:56 PM
I love the tone you are getting from your banjo on this one ... is it the Stelling? I normally don't like the Stelling sound ... don't tell! :)

banjo_on_the_lump Says:
Friday, June 12, 2009 @6:46:20 AM
J,
Great!!! You guys are over the top!
Banjo

jimh269b Says:
Monday, December 7, 2009 @4:39:24 PM
now thats a great jon

dgill Says:
Monday, December 7, 2009 @5:14:47 PM
Jon, I cannot tell you how many times I have listen to this on the disk you sent me. No matter I still enjoy it every time. Good to hear from you and hope all is well for you.

banjobubby Says:
Monday, March 8, 2010 @3:29:44 PM
jon i cant get enough of your pickin son your so damn good!! god blessed you with something special!!

foxxepat Says:
Sunday, June 6, 2010 @11:30:37 AM
Brilliant!!!
You must sign into your myHangout account before you can post comments.