Posted by mike gregory
[download]
- Play count: 154
Size: 1,523kb, uploaded 1/3/2014 4:56:57 AM
Genre: Unknown/None Chosen / Playing Style: Unknown/None Chosen
CRipple Creek, played Seeger style, claehammer style, and Scruggs style, on a banjo made from half of a Chinese drum.
---
2 comments on "Red Drum is murD deR spelled whackbirds."

JanetB Says:
Monday, January 6, 2014 @11:50:48 AM
That's interesting and makes sense. It's mellow, as if it has a skin head and nylgut or gut strings. I was just reading that Jenes Cottrell used old Buick transmission aluminum rings. It would make an interesting photo essay to see all this banjo variety.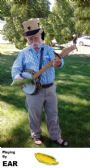 You must sign into your myHangout account before you can post comments.