Posted by Larry Maples
[download]
- Play count: 2558
Size: 1,684kb, uploaded 10/26/2006 8:43:18 AM
Genre: Unknown/None Chosen / Playing Style: Bluegrass (Scruggs)
this is a version Alan did on the knee deep in bluegrass cd, this tune took a while to get down.
---
7 comments on "4 leaf clover/Munde version"

mainejohn Says:
Saturday, January 6, 2007 @8:56:32 PM
I've always heard this in the 4 string version, but this was great! Thanks for shairing!

Mr Raymond Sutton Says:
Tuesday, March 6, 2007 @7:19:06 AM
I think the only word that fits the playing is FANTASTIC Thanks for posting. Regards Ray.

royce Says:
Sunday, May 6, 2007 @11:10:13 PM
Awesome job. That took some practice...That one would win a contest if you could play it without getting tied up...

Larry Maples Says:
Monday, May 7, 2007 @6:39:40 AM
Thanks for the comments guys. This tune probably took me the longest to get down of anything I have ever attempted. the first half is pretty straight forward,If anything Alan does is straight forward, the second half ,well that is another story. it took me 5 or 6 weeks to get it to where it is there, 4 or more hours a day. That is why I love Alan's arraingments.

frailin Says:
Sunday, May 20, 2007 @10:50:57 PM
Wow. Very nice, Larry.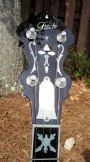 nickster Says:
Friday, June 15, 2007 @9:18:05 AM
That is a great job on a complicated piece. It makes me want to try to learn it. Fantastic playing. Is that the walnut or maple Stelling and what kind of bridge are you using? Sounds good.
Nick

Larry Maples Says:
Friday, June 15, 2007 @9:24:57 AM
maple,standard stelling bridge. Thanks!
You must sign into your myHangout account before you can post comments.