Posted by hangnail
[download]
- Play count: 1368
Size: 2,779kb, uploaded 10/11/2013 12:13:42 PM
Genre: Old Time / Playing Style: Clawhammer and Old-Time
I recorded this one with a Brooks Masten 12 inch fretless Spartan strung with Nylgut minstrel strings and tuned to a low D modal.
---

Strumelia Says:
Saturday, October 12, 2013 @9:38:52 AM
Very nicely played. :)

JanetB Says:
Saturday, October 12, 2013 @5:03:11 PM
Nice tone and great intonation.

banjobug93 Says:
Sunday, October 13, 2013 @7:38:55 AM
That's awesome! You nailed it!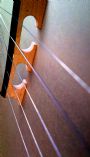 ChelseaQ Says:
Monday, June 9, 2014 @5:59:33 AM
I loved listening to this. Can you tell me how you achieve that downward slur sound? What's that technique called? I would really like to learn how to do that!
You must sign into your myHangout account before you can post comments.