Posted by Tom Berghan, written by Bill Monroe
[download]
- Play count: 5015
Size: 5,905kb, uploaded 6/19/2013 8:19:44 PM
Genre: Bluegrass / Playing Style: Bluegrass (Scruggs)
Tom Berghan - Soprano Banjo, Laurence Diehl - Guitar
---
5 comments on "Jerusalem Ridge"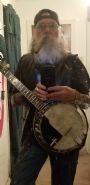 5stringpicker2 Says:
Thursday, June 20, 2013 @6:47:37 AM
Great Pickin'! I enjoyed pickin' with you. Keep it up. Love the Banjo by the way, It has a great sound to it.

( I 0====='----<::}

Don Borchelt Says:
Thursday, June 20, 2013 @8:36:38 PM
Very fine picking, gentlemen. A great sound. Imagine the improvement to bluegrass music if Bill Monroe had used a soprano banjo instead of his Gibby F5. I'm just sayin'.

Dan Knowles Says:
Monday, July 1, 2013 @2:58:57 PM
Great job Tom! I realy like the tone of that soprano,

rgoad Says:
Monday, July 1, 2013 @3:15:30 PM
I hope you had as much fun playing that as I did hearing it.
Tom Hanway Says:
Wednesday, April 20, 2016 @2:08:22 AM
This is great, and I love the nuances. This tune has found its way into Irish Trad circles. Pipers like it for some reason, but I've heard it played on mouth organ, too. Go figure?
You must sign into your myHangout account before you can post comments.