Posted by Laurence Diehl
[download]
- Play count: 1721
Size: 1,636kb, uploaded 4/23/2007 11:16:57 AM
Genre: Jazz / Playing Style: Bluegrass (Scruggs)
My interpretation of this jazz standard. I had to pick up the tempo a bit to make it work 'cos my horn has 5 strings!
---

androo Says:
Monday, April 23, 2007 @11:45:25 AM
That's the way Charlie woulda played it if he played banjo. Ya! Fine arrangement there Laurence! Now get back in that closet and crank out some more tunage!!!

salvatone Says:
Thursday, May 31, 2007 @8:26:38 AM
One of my favorites. Great improvand timing. Unlike a lot of 5 string jazz, this sounds like you have adapted the banjo to the song rather than the song to the banjo.

mainejohn Says:
Sunday, December 23, 2007 @8:16:03 AM
Excellent....great improv and tempo!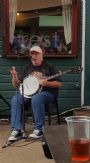 joemac Says:
Thursday, March 27, 2008 @1:08:24 PM
Hi Laurence, you are a wonderful musician.truely inspirational, can i borrow your fingers? well done!
Laurence Diehl Says:
Friday, March 28, 2008 @11:19:47 AM
Thanks Joe, those are very kind words

Tuneager Says:
Thursday, December 24, 2009 @7:43:16 PM
Another great tune and tasteful playing.

Paul Roberts Says:
Sunday, February 7, 2010 @5:45:25 PM
Laurence,
Commenting on your work is always an exercise in finding an appropriate superlative. "Fabulous" will have to suffice for this one!

john mrozla Says:
Friday, October 1, 2010 @1:55:39 PM
I always like your arangements and this one in particular.
You must sign into your myHangout account before you can post comments.