Posted by xnavyguy
[download]
- Play count: 779
Size: 1,872kb, uploaded 5/15/2013 2:40:28 AM
Genre: Fiddle/Celtic/Irish / Playing Style: Clawhammer and Old-Time
I have no idea about the title of this selection. I was doing some recording at a friends house last year and, while the band was taking a break, my friend Chuck Middleton was playing this on his new Gold Tone Cello banjo on which, I had earlier fitted a Pete Seeger (Stu Jamieson designed) style bridge that I had built out of plywood. It's a mono recording but I delayed the right channel 50 milliseconds to add a bit of "character". I just love the sound of this banjo in this context.
---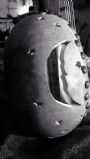 Noah Cline Says:
Thursday, July 18, 2013 @11:38:18 AM
Sounds like you're playing the A part of "Old Rosin the Beau" at the beginning. One of my favorite Irish tunes.
You must sign into your myHangout account before you can post comments.