Posted by Don Lewers, written by Cannon.
[download]
- Play count: 964
Size: 4,520kb, uploaded 5/13/2013 8:55:07 PM
Genre: Other / Playing Style: 4-String (Tenor/Plectrum)
During The Vietnam War, The ''Red Garter ''at'' The Texas Tavern in Sydney,'' was set up to entertain U.S troops on R&R leave, Down Under . With a foot tappin' banjo band , lots to drink, and wild wild women , it was all a bloke could ask for. Here's a couple of tracks off an LP, I aranged back in 1970 called ''The Red Garter Revue''-- They were wild times !!!
---
10 comments on "The Red Garter Down Under '' Wont You Come Home Bill Bailey''"

gary schumann Says:
Tuesday, May 14, 2013 @1:47:44 AM
vintage Don Lewers

MrManners Says:
Tuesday, May 14, 2013 @4:32:18 AM
that ole girl sure could belt them out--tom

mainejohn Says:
Thursday, May 16, 2013 @4:26:55 AM
Boy, did that take me back. I spent many an evening at the RG in Chicago in the 60's, then ended up playing at Your Father's Mustache, also in Chicago, in '67. Fun years!

VancePants Says:
Saturday, May 18, 2013 @10:00:56 AM
Yeah... those snappy banjos really SWING!

Don Lewers Says:
Monday, June 10, 2013 @6:31:41 PM
Thanks for your feedback blokes, yes Tom, Heather could really pump a song out, she had a beaut bluesy voice. Yes, they were fun times John! Hope to post a final two tunes from the R.G. L.P. shortly.

Kevin McCabe Says:
Sunday, October 20, 2013 @9:07:29 PM
Toe tappin' Don. Very nice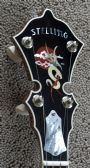 Patrick P. Says:
Tuesday, October 29, 2013 @4:01:37 AM
Thanks for posting, I love this toe tapping tune !

Don Lewers Says:
Tuesday, October 29, 2013 @9:08:15 PM
Kevin and Patrick, thanks a lot, glad you enjoyed the ''Red Garter Revue.''

BanjoFlyboy Says:
Wednesday, October 30, 2013 @5:30:00 AM
A goodun Don!

Don Lewers Says:
Tuesday, August 26, 2014 @5:58:07 PM
Cheers Danny Boy!. Goodonya' maaaate.
You must sign into your myHangout account before you can post comments.