Posted by joemac
[download]
- Play count: 737
Size: 5,412kb, uploaded 4/19/2013 11:21:22 AM
Genre: Bluegrass / Playing Style: Bluegrass (Scruggs)
Bob and I fooling around in the new Mini studio today, have not done this one in a while.....hope you like it!!!
---
5 comments on "Nashville Blues song"

VancePants Says:
Friday, April 19, 2013 @2:38:54 PM
Ain't no fools here... just mighty fine pickin' and grinin'... with Joe's slick runs and back-fills. Great stuff lads!
Laurence Diehl Says:
Sunday, April 21, 2013 @8:48:28 AM
Very nice - you guys are having too much fun! I think Doc did this one too.

rgoad Says:
Sunday, April 21, 2013 @1:45:42 PM
I see what you mean fooling around: y'all are effortless. That sounds wonderful.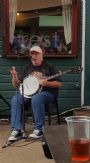 joemac Says:
Sunday, April 21, 2013 @3:00:12 PM
Thank you guys, it means a lot to me!

banjobhoy Says:
Saturday, April 27, 2013 @12:27:45 AM
Top drawer gentlemen. Top drawer.
You must sign into your myHangout account before you can post comments.