Posted by mogi, written by Bob Dylan
[download]
- Play count: 2375
Size: 6,870kb, uploaded 12/31/2012 12:27:24 PM
Genre: Folk / Playing Style: Clawhammer and Old-Time
---
7 comments on "Don't Think Twice"

bd Says:
Wednesday, January 2, 2013 @5:28:32 AM
Nice! I've been playing this on guitar for while based more on the Johnny Cash version than Dylan's. I haven't sorted out a good banjo arrangement but I like yours a lot--so I may be stealing of ya. Is that a gourd banjo?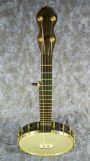 mogi Says:
Wednesday, January 2, 2013 @10:02:07 AM
Hi bd. No, that's my steel string with a roll of tissue under the strings to give it sort of a gut-string sound.

bd Says:
Wednesday, January 2, 2013 @7:12:18 PM
Well gee, that tissue trick worked like a charm!

rgoad Says:
Wednesday, January 2, 2013 @7:58:44 PM
Stellar.

crowbait Says:
Saturday, April 12, 2014 @9:24:43 AM
nice, Dylan would be proud

Gary Trusty Says:
Monday, October 20, 2014 @12:12:16 PM
Wow, I just came across this. Fantastic! I believe you may have outDylan'd Dylan!!! and I'm a Dylan fan from way back. Thanks for brightening a cold rainy day in Ohio. Gary

bmcneil Says:
Friday, January 2, 2015 @9:48:59 AM
Just discovered this... Excellent!
You must sign into your myHangout account before you can post comments.