Posted by Frailblazer
[download]
- Play count: 3032
Size: 5,396kb, uploaded 11/7/2011 3:10:42 PM
Genre: Old Time / Playing Style: Other
Ric Hollander - My arrangement of these two tunes. Played as a medley. Tuning: gCGDG capo 3rd. Banjo: Romero - Arrangement and performance copyright 2011 Ric Hollander - All Rights Reserved
---
9 comments on "Arkansas Traveler and Over the Waterfall"

JanetB Says:
Monday, November 7, 2011 @5:16:10 PM
You've elevated our mountain music to an exquisite realm. Simply beautiful, Ric!

John Kuhn Says:
Monday, November 7, 2011 @6:49:42 PM
Man that AT is still hauntin me..LOL..Best Ive ever heard!...OTW had alot going on as well. They went together very well!

jbalch Says:
Tuesday, November 8, 2011 @6:00:45 PM
Fantastic!

Frailblazer Says:
Wednesday, November 9, 2011 @9:34:41 AM
Thanks very much everyone! It's a fun one to play too.

Don Borchelt Says:
Friday, November 11, 2011 @8:25:25 AM
Very cool, Ric. I really like the harmonic double stops you slip in there. A superb performance.
Frailblazer Says:
Friday, November 11, 2011 @8:53:57 AM
Thanks Don! :-)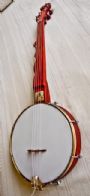 sport Says:
Wednesday, April 11, 2012 @12:59:36 AM
Wow I somehow missed this November post!
Thanks for the Easter Surprise: Sublime!
Let us know about the eventual CD

Tronik808 Says:
Tuesday, October 1, 2013 @12:35:40 PM
This is one of the most beautiful things I have ever heard.
Frailblazer Says:
Friday, November 1, 2013 @12:39:49 PM
Thanks guys for the comment.
You must sign into your myHangout account before you can post comments.