Written/Posted by RatLer
- Play count: 1225
Size: 4,755kb, uploaded 7/11/2011 10:03:00 AM
Genre: Old Time / Playing Style: Clawhammer and Old-Time
I'm sure this will be a work in progress. But I'd like to dedicate it to Jim Reed in particular for his years of work in the coal mines and for his seemingly endless contributions here on the Banjo Hangout....you're most appreciated my friend.
---
10 comments on "Kentucky Coal Miner"

jimh269b Says:
Monday, July 11, 2011 @2:20:26 PM
thanks greg,you do know what that means to me

VancePants Says:
Monday, July 11, 2011 @3:16:04 PM
Think this one is beggin' fer a poignant vocal track... perhaps we could "channel" Hazel Dickens... i for one, miss her.

RatLer Says:
Monday, July 11, 2011 @4:42:09 PM
Jim, you are so welcome. I was playing around with that tune and just got to thinking about coal mines and knowing you were still working....then thought about my grandparents and uncles in Kentucky that walked or road a mule to the mines, day in and day out. All the hardships and dangers they endured, then the anticipation of being home with their family at the end of the day....

You are right Kenelk, we need Hazel Dickens to come with some words ...!!!

rickhayes Says:
Friday, August 3, 2012 @12:02:00 PM
Good one Greg. Nice driving CH.

banjoy Says:
Saturday, August 4, 2012 @2:18:17 AM
Decades ago I lived in Whitesburg, KY for a couple of years aright there in those coalfields. Definitely grabs that feeling.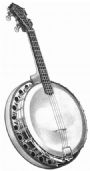 wuzapicker Says:
Saturday, August 4, 2012 @6:42:56 PM
Thanks Greg,

A great tune with potential for some pointed words. Hazel Dickens would love it I think, but I may have a certain bias. You see both of my grandfathers were professional coal miners, in West Virginia not Kentucky. But I think one mine was pretty much as hard a living as another. Coal Miners tend to stand as brothers regardless which company owns the hole.

My hat is off to you and all those brave men who work the mines.

JanetB Says:
Thursday, January 30, 2014 @6:03:52 AM
It's outstanding, Greg! It has the feel of Jim, especially the B part where it goes up and sounds so plaintive. Recently Jim wrote how much his mining "family" meant to him--12 guys that worked like a real team.

jimifive Says:
Thursday, January 30, 2014 @5:05:05 PM
that is a haunting tune
thanx for posting

RatLer Says:
Thursday, January 30, 2014 @5:39:20 PM
Thanks jimifive....I have since slowed it down some. I should repost it!!

banjobeat63 Says:
Friday, January 31, 2014 @12:19:05 AM
A great tune, good job, i like it!!
You must sign into your myHangout account before you can post comments.