Posted by JanetB, written by Bill Monroe
[download]
- Play count: 965
Size: 1,048kb, uploaded 7/11/2011 8:49:47 AM
Genre: Unknown/None Chosen / Playing Style: Unknown/None Chosen
Learned from Kenny Baker's version with Bill Monroe. Boy, he sure put in a lot of notes! God bless him.
---
8 comments on "Ashland Breakdown"

VancePants Says:
Monday, July 11, 2011 @3:19:44 PM
Sweet, delicate playin' as per usual... and i do like Kenny Baker.

JanetB Says:
Tuesday, July 12, 2011 @7:28:53 AM
Thanks, Ken. In bluegrass nobody could beat him, but Stuart Duncan sure comes close!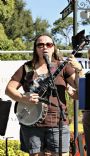 pickinchik Says:
Wednesday, July 20, 2011 @7:37:10 AM
Nice Janet, never heard that tune before. Sounded real good. Mind me asking what kind of banjo you're playin?

JanetB Says:
Wednesday, July 20, 2011 @7:58:28 AM
Monroe recorded it in 1975 with Kenny Baker fiddling and Bob Black on banjo. I'm not sure about my banjo. I can just hear my mom chiding me again to write the names of people on the back of photos. I need to write which banjo I'm using. I think it was the open back Bart Reiter, since I recorded that clawhammer style.

erikforgod Says:
Wednesday, July 20, 2011 @8:48:57 AM
Nice song....I liked it!

jbjo Says:
Friday, July 29, 2011 @10:48:56 AM
kenny baker was a hoss. never heard that clawed before, sounds real nice!

Don Huber Says:
Tuesday, March 13, 2012 @6:34:49 AM
Really well played! This is a great example of the type of old time banjo arrangement of a Kenny Baker tune that I would hope to come up with. Interesting how Kenny's tunes sound both new and familiar all at once.

Don

JanetB Says:
Tuesday, March 13, 2012 @7:00:15 AM
Thanks, Don. I also play it 3-finger picking, but it likes to be clawhammered with double C tuning. There's more Kenny Baker songs out there waiting for me!
You must sign into your myHangout account before you can post comments.