Posted by Don Borchelt
[download]
- Play count: 926
Size: 1,609kb, uploaded 7/1/2011 4:44:10 AM
Genre: Old Time / Playing Style: Clawhammer and Old-Time
I first heard this tune a few years ago at a the old time music jam at Sandy's Music in Cambridge, Massachusetts. Jon Gersh and Kathy Fletcher, who have led the jam for quite a few years now, were kind enough to record this with me in their basement studio. Kathy is playing fiddle, Jon is playing banjo clawhammer style, and I am playing three finger style, in open D tuning. Jon and Kathy are known around Boston as Planet Banjo, and have an old time group called the Dixie Butterhounds.
---
7 comments on "Five Miles from Town"

BanjoFlyboy Says:
Friday, July 1, 2011 @6:50:36 AM
That was great Don!
rickshunter1 Says:
Friday, July 1, 2011 @7:50:55 AM
That was some mighty fine picking right there Don you guys sounded great together

jimh269b Says:
Friday, July 1, 2011 @1:11:04 PM
dang thats hard to beat right there don,just super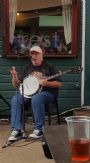 joemac Says:
Friday, July 1, 2011 @3:41:02 PM
Don, i love the way you guys get that "authentic sound" if you know what i'm trying to say, marvellious man.

dgill Says:
Friday, July 1, 2011 @3:53:47 PM
Dang Don, that was really good. I loved the tone and timing that came together when you all started to play. Five stars from me. The fiddle had almost a harmonica sort of sound to it. Well done by all.

strokestyle Says:
Thursday, July 7, 2011 @12:06:14 PM
Once again, lovely!

JanetB Says:
Sunday, December 17, 2017 @9:21:27 PM
What a tune! A simple title, but descriptive for the feel. Somebody sounds excited in this tune. Is he coming home or leaving town?!
You must sign into your myHangout account before you can post comments.