Posted by Austin Stovall
[download]
- Play count: 280
Size: 2,365kb, uploaded 6/5/2011 2:26:16 PM
Genre: Old Time / Playing Style: Clawhammer and Old-Time
I recorded this Version of Wade Wards Half shaved on windows sound recorder. I'm playing my new Deering Eagle 2 Resonator Banjo.
---

VancePants Says:
Tuesday, June 7, 2011 @11:50:03 AM
That's pretty hypnotic tune... which I've never heard before, but enjoyed. You should do a vid so we can see how's it's played. Cheers!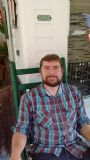 Austin Stovall Says:
Tuesday, June 7, 2011 @1:30:45 PM
thanks. I think the Hypnotic quality comes from the tuning (eCGCD) It's amazing what a diffrence in sound you get by dropping that 5th string from g to e. little birdie also sounds great in this tuning. If I ever get a video camera I'll post some vids. I believe someone has a video of this tune being played on a fretless banjo on youtube might want to check it out.

VancePants Says:
Wednesday, June 8, 2011 @9:42:02 AM
Hey man... thanks for the tuning info... I'll check out the vid.

Im wit Beard Says:
Monday, December 31, 2012 @3:57:29 PM
Enjoyed this, well played . It's New Years Eve and minutes from midnight so I will take your playing with me into 2013 as inspiration to learn this tune for myself.Thanks for posting.
You must sign into your myHangout account before you can post comments.