Posted by Ken LeVan, written by Harold Arlen
[download]
- Play count: 738
Size: 1,521kb, uploaded 5/18/2011 4:49:52 PM
Genre: Popular / Playing Style: Unknown/None Chosen
Played on a LeVan woodie banjo, C tuning key of D. My apologies to Harold Arlen
---
3 comments on "Woodie Somewhere Over the Rainbow"

Dan Mountjoy Says:
Thursday, May 19, 2011 @5:44:34 AM
Beautiful! Love the sound of that banjo.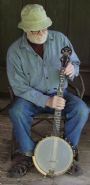 Ken LeVan Says:
Thursday, May 19, 2011 @5:55:16 AM
Thanks! It's a woodie with a chestnut rim, and a black locust tone ring. It has an "Original Elite" head, which is like the Renaissance parchment type. It has a very distinctive sound, brighter than you'd expect.

mainejohn Says:
Wednesday, July 13, 2011 @6:19:26 PM
Very nice, Ken!
You must sign into your myHangout account before you can post comments.