Posted by Tom Berghan
[download]
- Play count: 1812
Size: 2,021kb, uploaded 5/8/2011 3:00:45 PM
Genre: Unknown/None Chosen / Playing Style: Clawhammer and Old-Time
Mark Johnson Banjo and cheap guitar - Tom Berghan Fretless Bass Banjo
---
6 comments on "Greasy Coat goes Swamp Funk"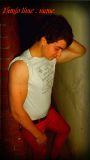 doublestandard Says:
Saturday, August 6, 2011 @9:10:47 AM
ahhahaha wonderful, what is swamp punk? :)

Tom Berghan Says:
Saturday, August 6, 2011 @2:13:53 PM
Thanks for your kind compliment! "Swamp Funk" (not punk) is a style of dance music from the 50s 60s & 70s from Southern Louisianna, played by both blacks and whites who share the old Canjun (French Acadian) life style in the Atchafalya River Basin area. I had the pleasure of living near there, in New Orleans, and playing in and around that area for about 7 years. A wonderful part of the United States and wonderful people with a wonderful and rich culture.

banjoike Says:
Saturday, August 6, 2011 @4:34:31 PM
Real Purdy!!!!


banjoike Says:
Saturday, August 6, 2011 @4:36:02 PM
Would make a real nice soundtrack for "TrueBlood"!!


f#dead Says:
Friday, December 2, 2011 @10:21:46 PM
I hadn't heard this before... KNOCKS me over! thnx for posting.
Danny D Says:
Friday, December 7, 2018 @4:02:01 AM
Love it Tom. Your creativity never stops. Thanks,
Danny D.
You must sign into your myHangout account before you can post comments.