Written/Posted by SCclawman
[download]
- Play count: 2005
Size: 2,722kb, uploaded 5/5/2011 8:12:39 PM
Genre: Other / Playing Style: Clawhammer and Old-Time
A version of one of my favorite hymns, Come Thou Fount of Every Blessing. Includes - clawhammer banjo, drop D acoustic, mandolin, and dobro I played all of the instruments, but must confess that the upright was played through a keyboard using a fancy computer program. :)
---
4 comments on "Come Thou Fount"

blanham Says:
Saturday, May 14, 2011 @12:28:05 PM
Excellent job! You're very talented.

JanetB Says:
Friday, October 14, 2011 @5:26:42 AM
Beautiful, as good as any recording imaginable. I like when the different instruments take a turn and wish I knew the words.

BNJOMAKR Says:
Sunday, April 15, 2012 @5:40:59 PM
"Tune my heart to sing Thy praise" beautiful job on one of my favorite songs.... THANKS!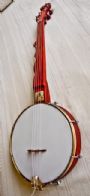 sport Says:
Friday, June 8, 2012 @7:48:11 AM
I love this super smooth arrangement and the banjo texture in thsi context.
Thanks for the post.

You must sign into your myHangout account before you can post comments.