Posted by blanham, written by William J. Kirkpatrick
[download]
- Play count: 1290
Size: 1,778kb, uploaded 4/23/2011 10:59:18 AM
Genre: Old Time / Playing Style: Clawhammer and Old-Time
I got this song from the Baptist Hymnal, and came up with a clawhammer arrangement. The beautiful melody is by William J. Kirkpatrick (1838-1921). Played by Bob Lanham on a Bart Reiter Bacophone Plus banjo. Recorded with an audio-technica AT2035 mic and a Zoom H4n recorder.
---
6 comments on "'Tis So Sweet to Trust in Jesus"

jbalch Says:
Saturday, April 23, 2011 @11:20:03 AM
Great old hymn...well played. I like your arrangement. The mic & recorder sound fantastic.

That banjo sounds awesome too. I can hear the warm sustain added by the Bacon ring. I'm crazy about the "plus" combination tone rings.

blanham Says:
Sunday, April 24, 2011 @4:18:38 AM
Thanks, John! So far I don't think this banjo sounds as pretty without some stuffing, but maybe I should try it without stuffing with this new mic. The setup here was stuffed, with a Miller calfskin head, heavy moon bridge, and Rickard no-knot tailpiece.

jbalch Says:
Sunday, April 24, 2011 @5:19:01 AM
Stuffing is a matter of personal preference. I rarely do it. But sometimes I think it helps...nothing wrong with that at all. I think your banjo (and playing) sound very good!

SCclawman Says:
Friday, June 3, 2011 @10:53:52 AM
man, that is just beautiful...i love the arrangement...and i love the old hymns. I just started learning clawhammer banjo (hadn't played any banjo before), a couple of months ago. I started trying to learn some of the old time songs, but kept find myself playing the old hymns that I already knew. It was a lot easier to learn technique on songs that I already knew by heart. I really want to try learning this one, but it gets a little complicated once you get into the song. Thanks for sharing and opening my eyes to new possibilities!

tw

blanham Says:
Friday, June 3, 2011 @5:13:27 PM
TW, I agree, it was a little tricky to get that lilt in there; it required some alternate string pulloffs. But that's what makes it so fun!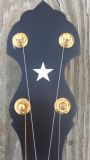 RWJonesy Says:
Tuesday, March 6, 2012 @3:24:45 PM
Love the old hymns and they never lose the relevance of their message...same yesterday, today and forever!!!!
You must sign into your myHangout account before you can post comments.