Posted by YorkshireWannabeOldTimer
- Play count: 286
Size: 2,892kb, uploaded 4/6/2011 6:01:09 AM
Genre: Old Time / Playing Style: Clawhammer and Old-Time
Hubris! -This is my attempt at Lonesome John, as based on the relevant section of Hunter Robertson's excellent instructional DVD 'Unfortunate puppy and other fine tunes'. I've only had my banjo for three months, so the playing is clumsy...
---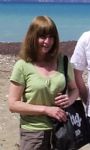 u k sandra Says:
Wednesday, April 6, 2011 @9:37:43 AM
I can`t believe you`ve only been playing for three months. Well done.

YorkshireWannabeOldTimer Says:
Wednesday, April 6, 2011 @10:16:59 AM
That's very flattering - thank you, u k sandra! I've played the guitar in a rather haphazard way for some years but the banjo feels like another chance at learning an instrument. There's so much to learn, though.
You must sign into your myHangout account before you can post comments.